By Sam Walker, reprinted courtesay of the Outer Banks Voice on Feb. 21, 2018
Bridge dedications can at times be mundane, with the usual dry speeches, a ribbon cutting or sign unveiling and a photo opportunity.
But that was not the case Tuesday on Hatteras Island, as the dedication of the Capt. Richard Etheridge Bridge was not only educational, it was inspirational, and at times emotional, for those in attendance.
Local and state officials gathered before a standing-room-only crowd in the Rodanthe-Waves-Salvo Community Building to speak about the significance of the concrete bridge over the breach of Pea Island by Hurricane Irene in 2011.
And they remarked on the even more significant namesake of the span–the first African-American keeper of a U.S. Life-Saving Service station more than a century ago. Etheridge was born a slave in 1842 and served in the Civil War for the Union Army at a key battle outside Richmond.
He then returned home to Dare County and eventually ascended to keeper of the Pea Island Life-Saving Station, crewed by an all African-American unit that was credited with saving countless lives, that once stood not far from the bridge that now carries his name.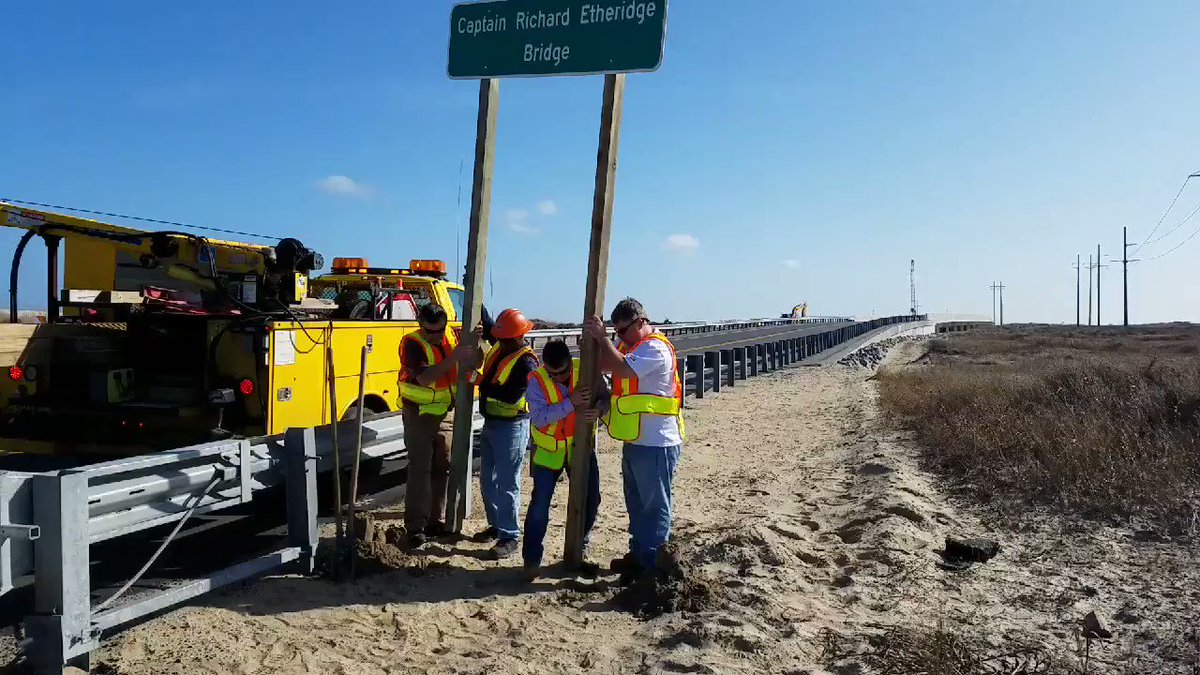 "It's fitting that, even though it's been more than a century since his most heroic moment, Capt. Richard Etheridge will continue to play a role in keeping people safe along this stretch of coastline," said N.C. Transportation Secretary Jim Trogdon.
The U.S. Coast Guard posthumously awarded Etheridge and his crew the Gold Lifesaving Medal for the heroic rescue of those on board the E.S. Newman during a hurricane in 1896. A Coast Guard cutter is also named in Etheridge's honor.
The Pea Island Preservation Society presented their "Freedmen, Surfmen and Heroes," which has been performed for Dare County school students and other groups chronicling Etheridge's life story.
Two of the presenters, Joan Collins and society President Darrell Collins, have ties to Etheridge and are descendants of Pea Island crew members.
Part of the presentation retold the story of the Newman rescue, and interpreters James Charlet and Linda Malloy brought the story of the heroic efforts of Etheridge and the surfmen in his charge to life.
​​​​​​​The bridge, formerly known as the Pea Island Interim Bridge, was completed last year to replace a temporary metal bridge built and open to traffic just six weeks after Hurricane Irene's sound side storm surge sliced through Pea Island.
The Atlantic Ocean and Pamlico Sound were connected by a 200-yard-wide, 6- to 8-foot deep channel one month later, but the cut has since naturally healed itself, just like New Inlet did decades ago just to the south.
"Thank you to the family members for lending us that name," said Dare County Manager Bobby Outten. "And thank you, NCDOT, for putting that bridge in for us."
Efforts to name the bridge for Etheridge were first spearheaded by former state transportation board member Malcolm Fearing of Manteo, then got a huge boost from a group of Kitty Hawk elementary school students who embarked on a letter-writing campaign.
"I can't think of a more appropriate way to honor Black History Month than to name this bridge the Capt. Richard Etheridge Bridge," said Dare County Board of Commissioners Chairman Robert Woodard. "I hope every Outer Banks resident that crosses this bridge thinks about his legacy and shares his story with everyone in their vehicle."